Register to watch the free livestream of Zanele Muholi and Thelma Golden in conversation here.
Founded in 2012, ICP Spotlights has spent ten years celebrating the immense talent of women imagemakers influencing the world of photography and visual culture. In its second decade and beyond, ICP Spotlights continues to make space for conversations regarding gender diversity in the field of photography. Though in the past ICP Spotlights has primarily supported women imagemakers, the ICP Spotlights Committee now looks to a more gender expansive community of imagemakers when determining the honoree of this prestigious award. ICP looks forward to celebrating women, non-binary, trans, intersex, and other gender expansive imagemakers at ICP Spotlights.
Program
Zanele Muholi in conversation with Thelma Golden
November 2, 2022
For more information about this year's event, including table reservations and ticket inquiries, please contact events@icp.org.

ICP Spotlights 2022 Host Committee
Honor Brodie
Almudena Legorreta
Renee Harbers Liddell
Stefano Tonchi
About Zanele Muholi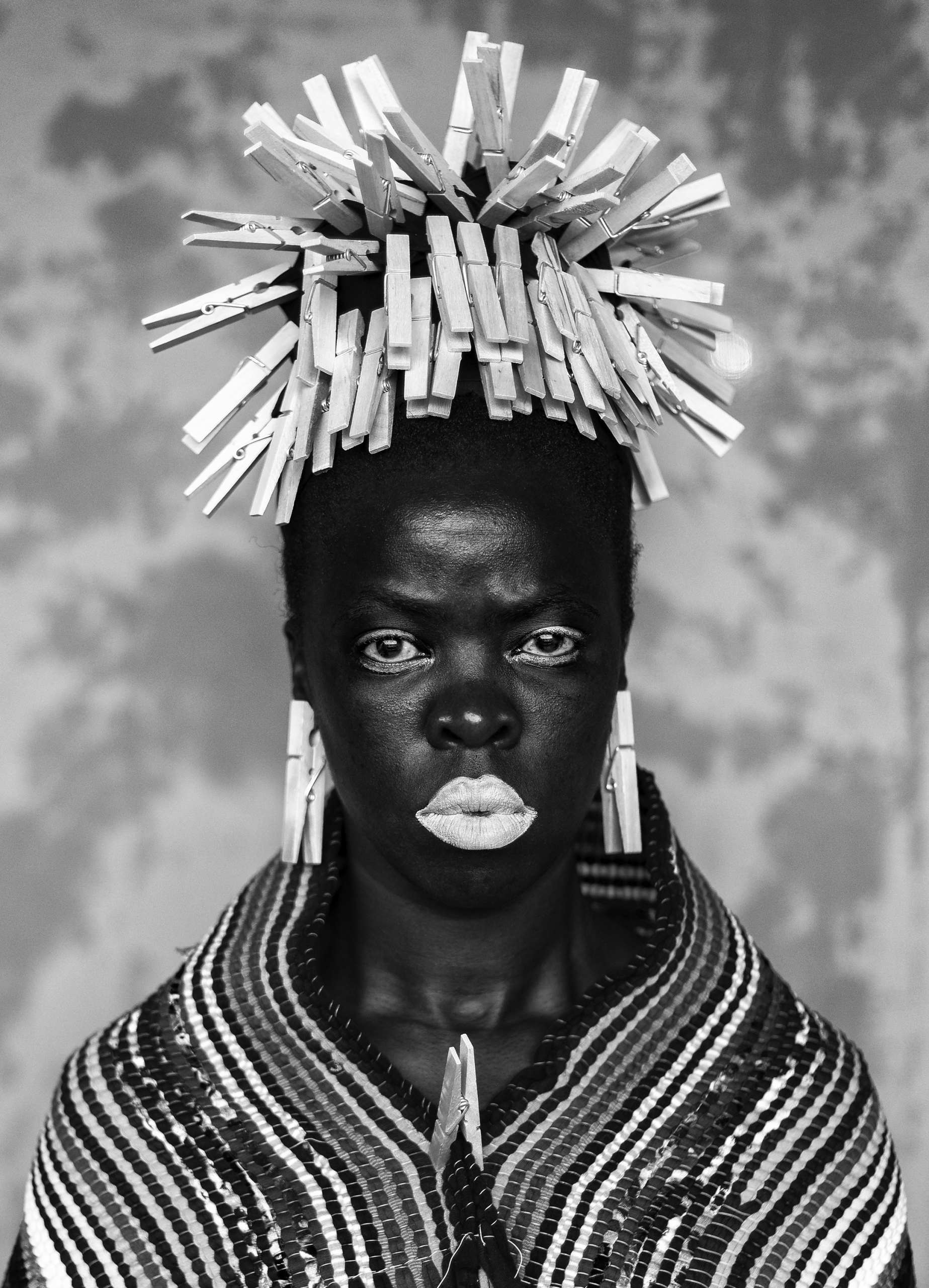 Bester I, Mayotte, 2015. Gelatin silver print. © Zanele Muholi. Courtesy of the artist, Yancey Richardson, New York, and Stevenson Cape Town/Johannesburg.​
Zanele Muholi is a visual activist and photographer born in Umlazi, Durban, and living in Johannesburg. Muholi's self- proclaimed mission is 'to re-write a black queer and trans visual history of South Africa for the world to know of our resistance and existence at the height of hate crimes in SA and beyond'.
They (Muholi's preferred pronoun) co-founded the Forum for Empowerment of Women (FEW) in 2002, and in 2009 founded Inkanyiso, a forum for queer and visual (activist) media. They continue to train and co-facilitate photography workshops for young women in the townships.
Muholi studied Advanced Photography at the Market Photo Workshop in Newtown, Johannesburg, and in 2009 completed an MFA: Documentary Media at Ryerson University, Toronto. In 2013 they became an Honorary Professor at the University of the Arts/Hochschule für Künste Bremen.
Awards and accolades received include the Spectrum International Prize for Photography (2020); Rees Visionary Award by Amref Health Africa (2019); a fellowship from the Royal Photographic Society, UK (2018); France's Chevalier de l'Ordre des Arts et des Lettres (2017); the Mbokodo Award in the category of Visual Arts (2017); ICP Infinity Award for Documentary and Photojournalism (2016); Africa'Sout! Courage and Creativity Award (2016); Outstanding International Alumni Award from Ryerson University (2016); Fine Prize for an emerging artist at the 2013 Carnegie International; and the Prince Claus Award (2013).
A mid-career retrospective by the artist was exhibited at the Tate Modern, London in 2020/21 and the exhibition will travel over the next few years to the Gropius Bau in Berlin and the Maison Europeenne de la Photographie in Paris. Previous solo exhibitions have taken place at the Norval Foundation, Cape Town (2020); The Ethelbert Cooper Gallery of African and African American Art at Harvard University (2020); Seattle Art Museum (2019); Colby Museum, Maine (2019); Spelman College Museum of Fine Art, Georgia (2018); New Art Exchange, Nottingham, UK (2018); Museo de Arte Moderno de Buenos Aires (2018); LUMA Westbau (2018); Fotografiska, Stockholm (2018); Durban Art Gallery (a survey exhibition conceptualised as a homecoming) 2017; Market Photo Workshop, Johannesburg (2017); Stedelijk Museum, Amsterdam (2017); Autograph ABP, London (2017); Maitland Institute, Cape Town (2017); Standard Bank Gallery, Grahamstown (2016); Open Eye Gallery, Liverpool (2015); Brooklyn Museum (2015); Akershus Kunstsenter, Norway (2015); Einsteinhaus, Ulm (2014); Schwules Museum, Berlin (2014); and Casa Africa, Las Palmas (2011). The Faces and Phases series has been shown at the South African Pavilion at the 55th Venice Biennale (2013); DOCUMENTA 13 (2012), and the 29th São Paulo Biennial (2010).
Muholi exhibited in May You Live in Interesting Times, the 58th Venice Biennale (2019); they produced a city-wide project titled Masihambisane - on Visual Activism for Performa 17, New York (2017) and featured in the inaugural exhibitions at the Zeitz Museum of Contemporary Art Africa, Cape Town. Muholi won the 2019 'Best Photography Book Award' by the Kraszna-Krausz Foundation and the Lucie Award for Outstanding Achievement in Photography for Somnyama Ngonyama: Hail, The Dark Lioness (Aperture) and was shortlisted for the 2015 Deutsche Börse Photography Prize for the publication Faces and Phases 2006-14 (Steidl/The Walther Collection). Other publications include Zanele Muholi: African Women Photographers #1 (Casa Africa and La Fábrica, 2011); Faces and Phases (Prestel, 2010); and Only half the picture (Stevenson, 2006).
Past Events
ICP Spotlights 2021: Catherie Opie
ICP Spotlights 2020: Nadia Hallgren, Deana Lawson, Lindsay Peoples Wagner
ICP Spotlights 2018: Mickalene Thomas
ICP Spotlights 2017: Lynsey Addario
ICP Spotlights 2016 (November): Laurie Simmons
ICP Spotlights 2016 (January): Lauren Greenfield
ICP Spotlights 2015: Carrie Mae Weems
ICP Spotlights 2014: Shirin Neshat
ICP Spotlights 2013: Fashion Photography
ICP Spotlights 2012: Creating a Better World
Header image: Bester IX, Philadelphia, 2018. Gelatin silver print. © Zanele Muholi. Courtesy of the artist, Yancey Richardson, New York, and Stevenson Cape Town/Johannesburg.