Since 2012, ICP's annual Spotlights benefit has honored women in visual arts working in photography and film. Co-chaired by ICP Trustee Peggy Anderson and Debby Hymowitz, this year's benefit celebrates the ten-year anniversary of Spotlights and recognizes photographic artist Catherine Opie.
Thank you to our supporters who make this event possible.
Program
Catherine Opie in conversation with Helen Molesworth
November 4, 2021
Free Live Broadcast
12:30 PM ET
ICP's YouTube Channel
youtube.com/internationalcenterofphotography

In-person programming starts at 12 PM ET. In-person ticket sale has now closed, contact events@icp.org to purchase tickets.
ICP Spotlights 2021 Co-Chairs
Peggy Anderson and Debby Hymowitz
About Catherine Opie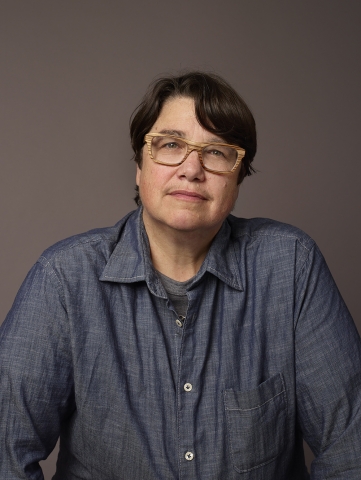 Catherine Opie (b. 1961, Sandusky, OH; lives and works in Los Angeles, CA) is an artist working with photography, film, collage, and ceramics. Her work has been exhibited extensively throughout the United States and abroad and is held in over 50 major collections throughout the world. Opie was the Robert Mapplethorpe Resident in Photography at the American Academy in Rome for 2021. Opie was also a recipient of The Guggenheim Fellowship in 2019, The Smithsonian's Archives of American Art Medal in 2016, The Julius Shulman Excellence in Photography Award in 2013 and a United States Artists Fellowship in 2006. In September of 2008, the Guggenheim Museum in New York opened a mid-career exhibition titled, Catherine Opie: American Photographer. She debuted her film, The Modernist, at Regen Projects, Los Angeles in 2018. Her first monograph, Catherine Opie, was recently published by Phaidon in June of 2021. Opie received a B.F.A. from the San Francisco Art Institute, and an M.F.A. from the California Institute of the Arts in 1988. She holds the Lynda and Stewart Resnick Endowed Chair in Art at UCLA where she is a professor of Photography and also Chair of the Department of Art.
Moderator bio
Helen Molesworth is a writer and a curator who recently hosted a podcast series called "Recording Artists" with The Getty and organized the large group exhibition Feedback for Jack Shainman's gallery The School in Kinderhook, NY. Her major museum exhibitions include: One Day at a Time: Manny Farber and Termite Art; Leap Before You Look: Black Mountain College 1933–1957; Dance/Draw; This Will Have Been: Art, Love & Politics in the 1980s; Part Object Part Sculpture, and Work Ethic. She has organized monographic exhibitions of Ruth Asawa, Moyra Davey, Noah Davis, Louise Lawler, Steve Locke, Anna Maria Maiolino, Josiah McElheny, Kerry James Marshall, Catherine Opie, Amy Sillman, and Luc Tuymans. She is the author of numerous catalogue essays and her writing has appeared in Artforum, Art Journal, Documents, and October. The recipient of the 2011 Bard Center for Curatorial Studies Award for Curatorial Excellence, in 2021 she was awarded a Guggenheim Fellowship.
Past Events
ICP Spotlights 2020: Nadia Hallgren, Deana Lawson, Lindsay Peoples Wagner
ICP Spotlights 2018: Mickalene Thomas
ICP Spotlights 2017: Lynsey Addario
ICP Spotlights 2016 (November): Laurie Simmons
ICP Spotlights 2016 (January): Lauren Greenfield
ICP Spotlights 2015: Carrie Mae Weems
ICP Spotlights 2014: Shirin Neshat
ICP Spotlights 2013: Fashion Photography
ICP Spotlights 2012: Creating a Better World
LEFT: Catherine Opie, Chloe, 1993
CENTER: Catherine Opie, Chicken from "Being and Having", 1991
RIGHT: Catherine Opie, Crystal Mason, 1994
All images: © Catherine Opie, Courtesy Regen Projects, Los Angeles and Lehmann Maupin, New York, Hong Kong, Seoul, and London