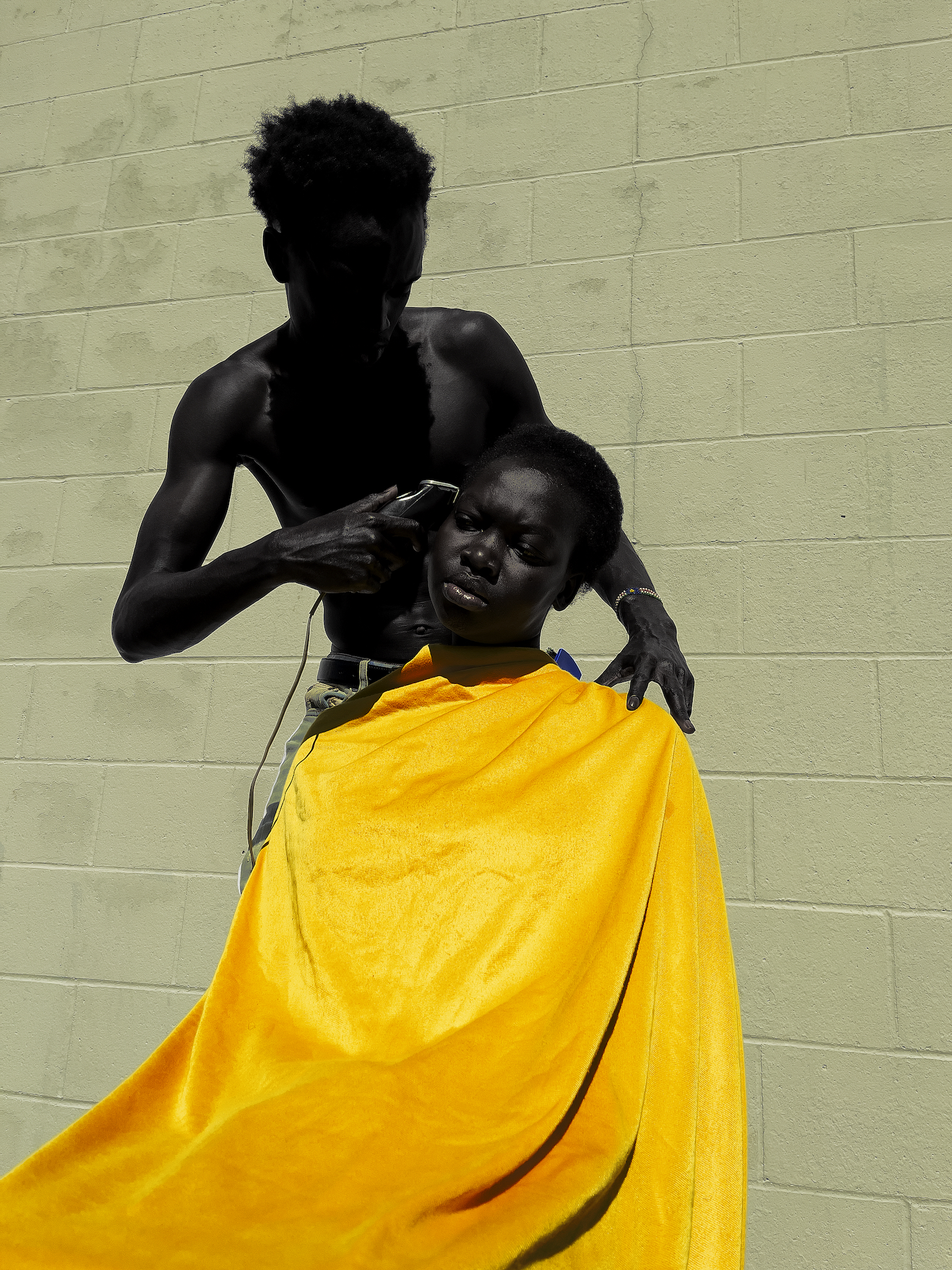 Isaac West, Untitled, from IN LOVE, 2021. © Isaac West
Photographers Quil Lemons and Isaac West reflect on their newly commissioned work on view at ICP as part of Inward: Reflections on Interiority. The artists will be joined in conversation by ICP Curator-at-Large, Isolde Brielmaier.
Register for Part II of the program Inward Conversations to hear from Arielle Bobb-Willis, Djeneba Aduayom, and Brad Ogbonna on October 14, 2021.
About the Exhibition
INWARD: Reflections on Interiority features newly commissioned work by five emerging artists—Djeneba Aduayom, Arielle Bobb-Willis, Quil Lemons, Brad Ogbonna, and Isaac West—who experiment with and explore aspects of their interior lives. Their work moves beyond the endless scope of the constructed selfie and documentation of events in the public realm to examine the intimate interactions and thoughts that make up their daily experiences as artists and people in a time of unprecedented change. The exhibition is curated by Isolde Brielmaier, PhD, Curator-at-Large at ICP.
Reserve your timed entry tickets online to plan your visit before or after the public program.
About the Program Format
This program will take place on Zoom. Those who register to attend will receive a confirmation email with a link located at the bottom of the email under 'Important Information' to join through a computer or mobile device.
We recommend participants download the Zoom app on their device prior to the program. Learn how to download the latest version of Zoom to your computer or mobile device.
If you do not receive the link by 4 PM on the day of the program or if you have questions about the online program, please contact: programs@icp.org.
Live closed captions are available at our online public programs.
Event Price
This program is free with a suggested donation of $5.
We need your support. Admission to this online program is free with a suggested donation—help keep public programs accessible to all by donating today.
Speaker Bio
Isaac West (b. 1990) is a Liberian-born, U.S.-based photographer, artist, and creative director who specializes in conceptual art and minimalism. West's luminous portraits evoke a contemporary regality. In 2018, West photographed two issues for Paper magazine, "Higher Ground" (web issue) and "West's World" (Spring print issue). In 2019, West photographed the actress Zendaya for the cover of the Summer print "Extreme" issue of Paper, and West was also named one of Paper magazine's "100 People Taking Over 2019." West photographed Parker Kit Hill for the Spring 2019 print issue cover of Funk Magazine, a magazine dedicated to the LGBT community. Vogue Italia featured West's third-biggest photography project called "8Minutes & 46Seconds" as a full spread in their 2020 Summer print issue. West's work was featured in the Aperture Foundation's 2020 exhibition The New Black Vanguard in New York, NY, which then traveled to Australia and Qatar in 2021.
Quil Lemons (b. 1997) is a New York-based photographer with a distinct visual language that interrogates ideas around masculinity, family, queerness, race, beauty, and popular culture. His inaugural series GLITTERBOY (2017) introduced Lemons to the world and started a dialogue that would act as a common thread through much of his work to come. In it, he dusted black men with glitter to combat the stereotypes and stigmas placed upon their bodies. This concept of challenging what is acceptable for the black male body developed even further in BOY PARTS (2020). Simultaneously, Lemons began an exploration of the black family portrait with his series PURPLE (2018) and project WELCOME HOME (2018). Images from both projects gave an intimate glimpse into his home life and the modern black American family structure in Philadelphia. Lemons has previously exhibited at Contact Festival, Toronto, 2018; Kuumba Festival, Toronto, 2019; and Aperture, NY 2019. His work has appeared on the cover of Vanity Fair, and publications including Variety, Vogue, and the New York Times.

Isolde Brielmaier (@isolde_brielmaier) is Curator-at-Large at the International Center for Photography (ICP) and the newly appointed Deputy Director of the New Museum in NYC. Previously, Isolde served for six years as Executive Director and Curator of Arts, Culture & Community at Westfield World Trade Center, a role in which she developed artist projects and installations, cultural events, strategic and community partnerships across the organization. Isolde is also Professor of Critical Studies in Tisch's Department of Photography, Imaging and Emerging Media at New York University.
Throughout her curatorial career, Isolde has collaborated with noted contemporary artists including Carrie Mae Weems, Ellen Gallagher, Leonardo Drew, Richard Mosse, Ivan Navarro, Wangechi Mutu, Bill Viola, Hugo McCloud, Fred Wilson, Tyler Mitchell, and Bharti Kher, to name a few. She has written extensively on contemporary art and culture, including several exhibition catalogues, journal articles as well as artist monographs. Her most recent book, Culture as Catalyst was released Fall 2020 and her forthcoming photography book, I am Sparkling, will be released in Spring 2022.
Isolde has been profiled and featured in the New York Times, the Wall Street Journal, Elle, Vogue, Modern Luxury, New York Magazine's The Cut, WNYC Radio, CNN, the Washington Post, Galerie Magazine, Cultured, and Whitewall among others.
Previously, Isolde has worked for the Guggenheim Museum, the Bronx Museum of Art, and as Chief Curator for the SCAD Museum of Art. She is deeply committed to the promotion of social justice and human rights, specifically global women's issues and criminal justice reform and serves on the board of the Women's Prison Association (WPA) as well as an advisor to Malaika, an all-girls school in the Democratic Republic of Congo. Isolde holds a PhD from Columbia University and lives in New York City.