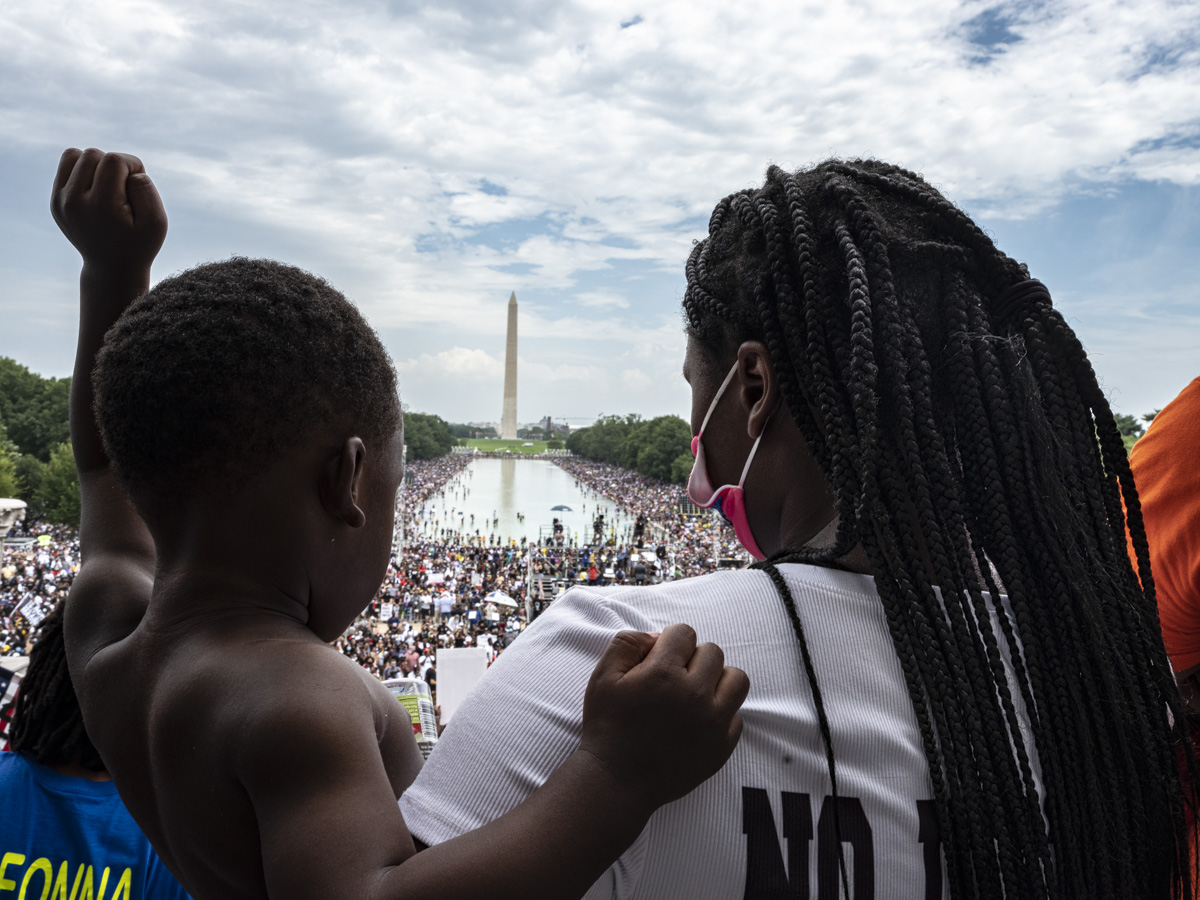 Image: Joshua Rashaad McFadden,
Alena holds her son, Tamaj (Washington, D.C.)
, 2020. From Unrest in America: March on Washington
©
Joshua Rashaad McFadden
Visual artist, photographer, and assistant professor of photography at Rochester Institute of Technology, Joshua Rashaad McFadden discusses his recent year documenting social unrest as well as his genre bending creative practice that engages archival materials to examine the impact of history on current life, specifically for Black Americans. With an upcoming early-career retrospective opening later this year at the Eastman Museum, McFadden will take the audience through his impactful work that investigates themes related to identity, masculinity, history, race, and sexuality. McFadden will be joined by ICP's managing director of programs, David Campany and the discussion will be followed by an audience Q&A.
About the Series
ICP Talks is ICP's Photographer's lecture series. Join us monthly each season for four one-hour lectures featuring renowned photographers who champion social change through photography, employ exciting alternative and emerging practices, or asks critical questions about the form. The Fall season takes place online from September through December and features Dayanita Singh, Joshua Rashaad McFadden, Pacifico Silano, and Jeff Wall.

Reserve your season pass at a discounted rate to attend all four lectures today!
Current ICP students and faculty of the One-Year Certificate programs are automatically enrolled. ICP Members will receive a coupon code to use for complimentary admission.
We strive to record all the ICP Talks lectures to make available to participants up to 7 days after the program but technical issues do happen. Recordings are not guaranteed for each lecture. We recommend participants to tune in live if there is a session they don't want to miss.
Field Trips for High Schools, Colleges, and University Students
Plan your field trip now! Educators receive a 50% discount towards individual lectures ($3 per student per individual lecture) and can reserve a season pass at the educator's rate ($10 per student for all four lectures) when booking for a student group or class. Please email programs@icp.org to book your class field trip.
About the Program Format
This program will take place on Zoom. Those who register to attend will receive a confirmation email with a link located at the bottom of the email under 'Important Information' to join the lecture through a computer or mobile device.
We recommend participants download the Zoom app on their device prior to the program. Learn how to download the latest version of Zoom to your computer or mobile device.
If you do not receive the link by 11 AM on the day of the lecture or if you have questions about the online lecture, please contact: programs@icp.org.

Live closed captions are available at our online public programs.
Speaker Bios:
Joshua Rashaad McFadden is an American visual artist whose primary medium is photography. McFadden explores the use of archival material within his work and is known for his portraiture. He also conceptually investigates themes related to identity, masculinity, history, race, and sexuality.
David Campany is a curator, writer, and managing director of programs at the International Center of Photography, New York. His books include On Photographs (2020), A Handful of Dust (2015), Art and Photography (2003), Jeff Wall: Picture for Women (2011), Walker Evans: the Magazine Work (2014), and The Open Road: Photography and the American Road Trip (2014).