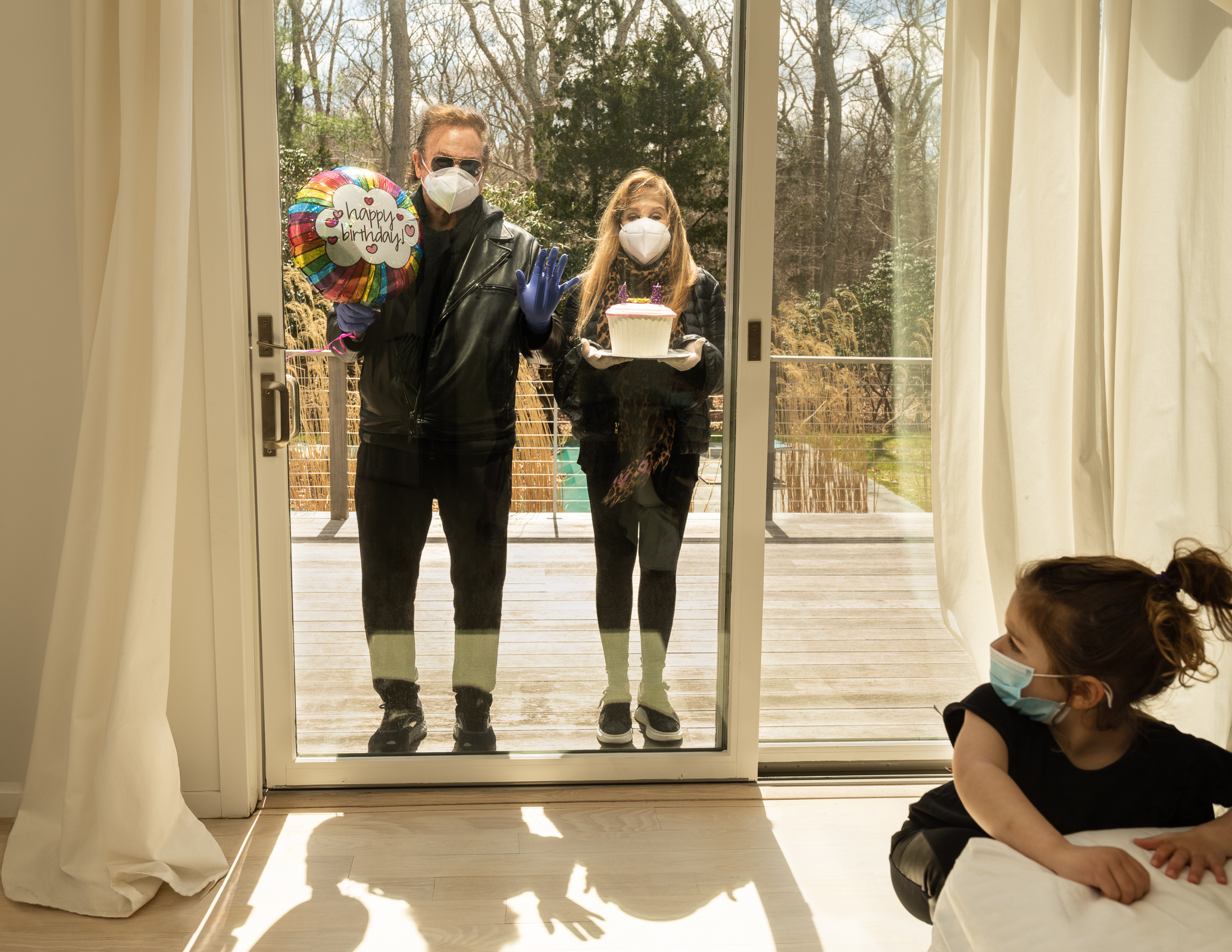 Gillian Laub, My Quarantine Birthday, 2020. © Gillian Laub
In-person seating for this event is sold out. Reserve your ticket for Live Online Viewing (Free with suggested donation.)
Photographer and filmmaker Gillian Laub has spent decades using her camera to explore and investigate regions of political, social and psychological conflict, inviting both her subjects and viewers into the complicated conversations of repair and reconciliation. In 2016, in the midst of the most divisive election in US history, with her family on two sides of the gaping divide, Laub discovered that the discord that historically captivated her was inextricably linked to the complex and loving relationships she had been chronicling in her own family for more than two decades.
Held in partnership with Reboot, join ICP for a conversation between Gillian Laub and psychoanalyst Dr. Orna Guralnik, therapist of the Showtime critically acclaimed series Couples Therapy. They will examine the vulnerability, vitriol, pain, humor and love that Laub explores and shares in her ICP exhibition Family Matters on view through January 10, 2022 and in her deeply personal monograph Family Matters (Aperture, October 2021.) Held in gallery at ICP's Lower East Side center against the backdrop of Laub's exhibition, Laub and Dr. Guralnik will explore the edges of love and tolerance, family, privilege, wealth and mortality.
Purchase Gillian Laub: Family Matters (Aperture, $50) through ICP's shop.
Speaker Bios
Gillian Laub (born in Chappaqua, New York, 1975) is a photographer and filmmaker based in New York. She received a BA in comparative literature from the University of Wisconsin–Madison, before studying photography at the International Center of Photography, New York. Her works include the book Testimony (Aperture, 2007) and the book and HBO film Southern Rites (2015). Laub received a New York Foundation for the Arts fellowship in 2019.
Dr. Orna Guralnik is a psychoanalyst and writer who serves on the faculty of NYU Postdoctoral Program in Psychoanalysis and National Institute for the Psychotherapies, and on the editorial boards of Psychoanalytic Dialogues and Studies in Gender & Sexuality. Her writing centers on the intersection of psychoanalysis, dissociation and cultural studies. She co-founded the Center for the Study of Dissociation and Depersonalization at the Mount Sinai Medical School and is a graduate of NYU Postdoctoral Program in Psychoanalysis.
Reboot is an arts and culture non-profit that reimagines and reinforces Jewish thought and traditions. As a premier R&D platform for the Jewish world, we catalyze our Reboot Network of preeminent creators, artists, entrepreneurs and activists to produce experiences and products that evolve the Jewish conversation and transform society.
All Reboot projects imagine Jewish ritual and tradition afresh, offering an inviting mix of discovery, experience and reflection through events, exhibitions, recordings, books, films, DIY activity toolkits and apps. These projects have engaged over a million participants and continue to inspire Jewish connections and meaning by encouraging participants to become creators in their Jewish experience. Reboot Ideas hosts the critical conversations evolving the Jewish experience and transforming society.