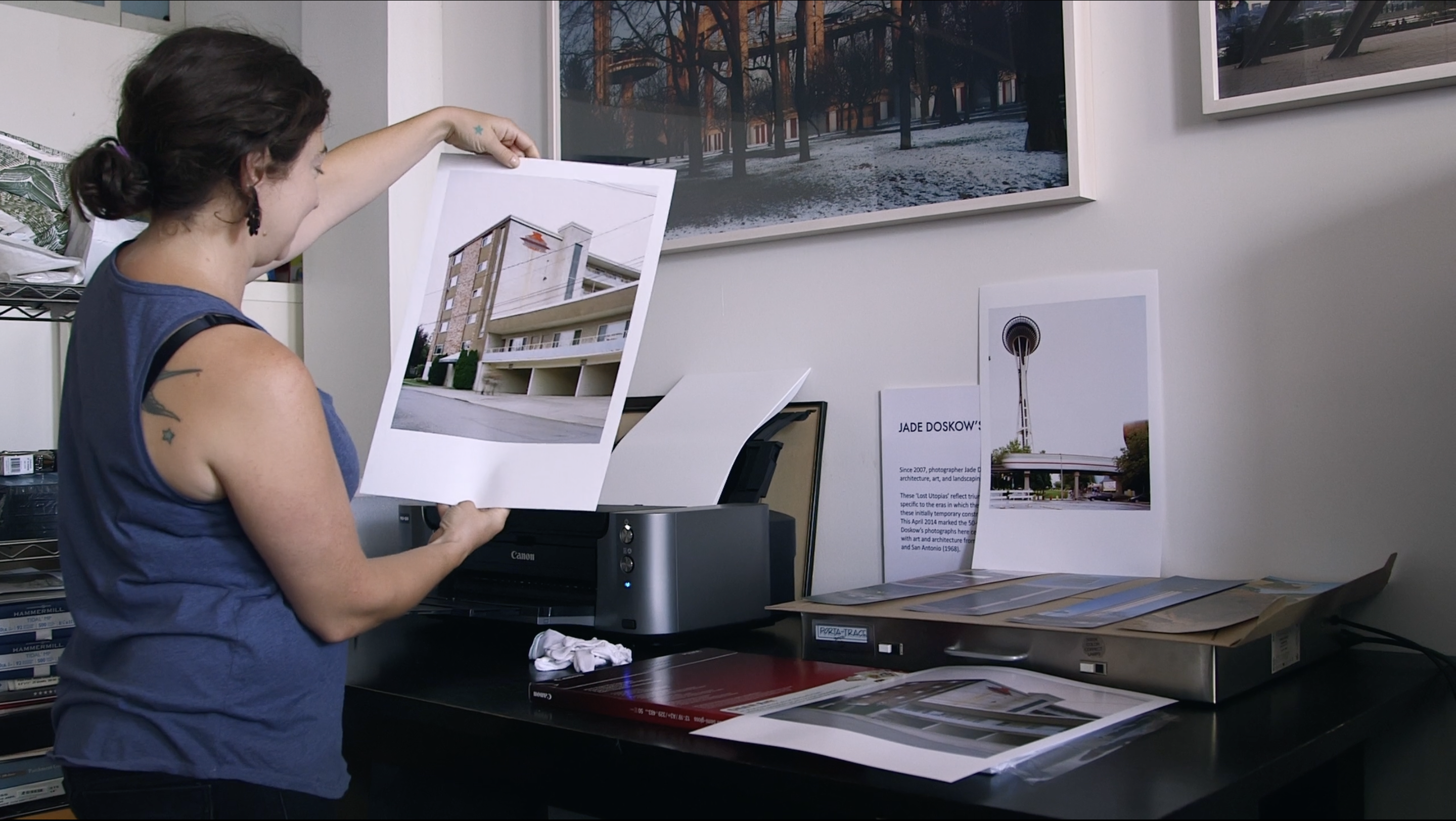 Join ICP for the premiere of Jade Doskow: Photographer of Lost Utopias, a film that chronicles ICP faculty member Jade Doskow's ten year journey documenting the monumental architectural works from past world's fairs. After the film screening, Jade Doskow will be joined by filmmaker Philip Shane to discuss the project and will answer questions from the audience.
About the Film
Architectural works from past world's fair expositions are aspirational visions. Most of these fantastical structures were meant to be temporary, but dozens of examples still remain.
Filmmaker Philip Shane follows architectural landscape photographer Jade Doskow on her 10-year quest to capture the monumental world's fair echoes that remain worldwide. Lugging around her bulky, 4x5-inch large-format film camera, she travels to many cities across the globe, such as Paris, New York, Brussels, Montreal, Seville, Chicago and Seattle, among others. Rather than focus strictly on the subjects of the photos, Shane provides an insider's look into the artist's painstaking process of setting up precise vantage points for each building, taking a handful of frames at each location, then spending weeks or months on the digital editing process, careful to highlight subtle shadings and color patterns to create the perfect, immaculate print.
Jade Doskow: Photographer of Lost Utopias takes the viewer on a journey through the mind of an artist struggling to navigate between the practical demands of her personal life and the hyper-idealistic relics of a future never fully realized.
Watch the trailer: https://vimeo.com/519349378
Interested in learning more from photographer and educator Jade Doskow? Registration is now open for their ICP courses, Celebrating the Cityscape meeting weekly from October 18 through November 22, 2021 and A New Kind of Wilderness: On Site at Freshkills, a hybrid course meeting in person at Freshkills in Staten Island on Sunday, November 7 and on Zoom on Thursday, November11, 2021. Learn more about ICP's courses and workshops.
Program Format
This program will take place in the Library at the International Center of Photography, located at 79 Essex, New York, NY 10002. All program attendees must show proof of vaccination and wear a mask throughout their visit.
All ticket holders will receive an e-mail notifying of any changes to the program, including if the event gets postponed. We recommend all ticket holders to check the event page for updates prior to the event.
For questions, contact programs@icp.org
Event Price
Tickets to this in person film screening are $10.
Please note, this public program ticket does not include admission to the ICP galleries. Reserve your timed entry tickets online to view the exhibitions before or after the program.
Speaker Bios
Philip Shane is an award winning documentary filmmaker with over 25 years of experience. He was co-director & editor of Being Elmo (Winner of the Special Jury Prize at the 2011 Sundance Film Festival), and producer & editor of the two hour feature documentary Einstein (2008, History Channel). As editor of Dancing in Jaffa, which had its World Premiere at the 2013 TriBeCa Film Festival, he and Bob Eisenhardt won Best Editing Award at Israel's prestigious DocAviv Film Festival. At ABC News for nearly a decade, Shane edited many distinguished long form programs including Ted Kopple's Iraq War documentary, Tip of the Spear, which won the 2004 DuPont Columbia Award for Broadcast Journalism, and Martin Luther King: Searching For The Promised Land (1999) which won the Emmy Award for Outstanding Historical Program. Shane has edited many films about performing artists. With Paul McCartney, his daughter Mary, and director Alistair Donald, he made the film Wingspan (2001), about the McCartney family's life after The Beatles. His previous project, The Beatles Revolution (2000) told the story of the band through the memories of musicians, artists, politicians, writers, and other celebrities. Other artists he's worked with include Carly Simon, Bruce Springsteen, and The Boston Symphony.
Jade Doskow: New York-based architectural and landscape photographer Jade Doskow is known for her rigorously composed and eerily poetic images that examine the intersection of people, architecture, nature, and time. Doskow holds a BA from New York University and an MFA from the School of Visual Arts. Doskow is the subject of a 2021 documentary Jade Doskow: Photographer of Lost Utopias; the film will premiere at the International Center of Photography. Doskow was one of 50 women featured in the award-winning 2018 October book publication '50 Contemporary Women Artists: Groundbreaking Art from 1960 to the Present'. She is best known for her long-term projects 'Freshkills' and 'Lost Utopias' as well as additional bodies of work examining architecture and the cityscape. In December 2016, a monograph of Lost Utopias was published by Black Dog London and listed by American Photo as one of the top 50 photo books of the year. Throughout all of her work, a sense of timeless monumentality in juxtaposition to modern details highlights the surreality of the contemporary cityscape. Doskow's photographs have been featured and reviewed internationally, including The New York Times, Aperture, Photograph, Elle Décor Italia, Architect, Wired, Musée Mag, Smithsonian, Slate, and Newsweek Japan. Doskow guest lectures at Cornell University and is on the faculty of both CUNY and the International Center of Photography. Doskow is represented by Tracey Morgan Gallery in Asheville, NC. Jade Doskow is the Photographer-in-Residence of Freshkills Park, New York City.