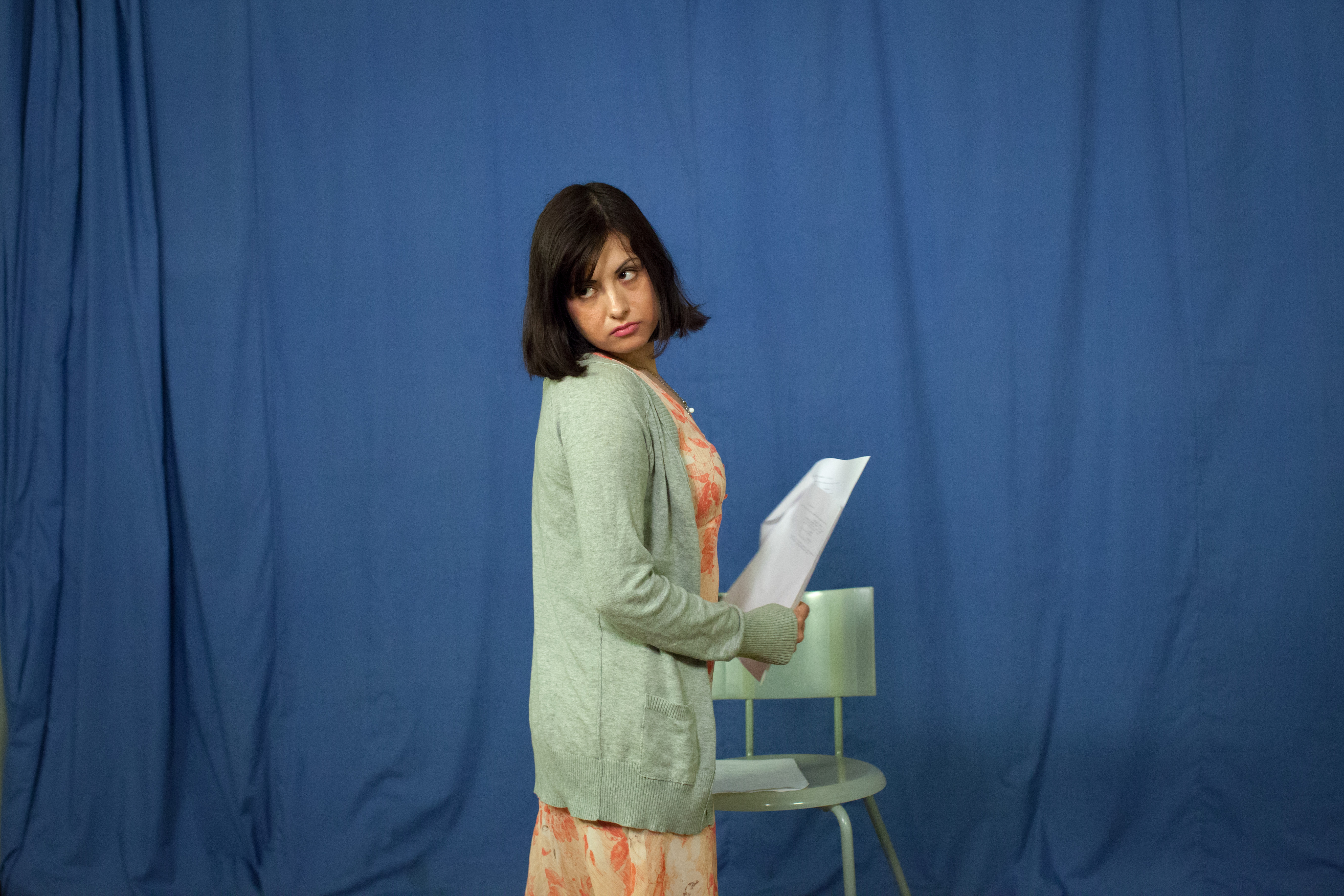 Join ICP for an in-person public program in the ICP Library featuring photographer Diana Markosian in conversation with some of the cast and collaborators of the centerpiece short film from her project Santa Barbara, on view at ICP from September 24, 2021 through January 10, 2022 as part of her solo exhibition. Lynda Myles, the script writer for both Markosian's film and the NBC TV soap opera, Santa Barbara (airing 1984–93), actor Gene Jones, actress Ana Imnadze, cinematographer David Feeney-Mosier, and set designer, Freyja Bardell, will join Markosian in a discussion on the making of the film, the inspiration, and story behind the project.
Reserve the book Diana Markosian: Santa Barbara ($65.00) through ICP's shop.
About the Exhibition
Diana Markosian: Santa Barbara presents the photographer's compelling autobiographical narrative of her mother's path from Russia to America with her two children in search of a better life. The exhibition juxtaposes an idealized, Hollywood-like version of the American dream with the often-startling reality of the immigrant experience. Curated by Sara Ickow, Senior Manager of Exhibitions and Collections, and David Campany, Santa Barbara features staged images, film footage, and family photographs that reimagine the past and explore themes of family and memory. Reserve your timed entry tickets online to plan your visit before or after the public program.
About the Book
Santa Barbara is the debut monograph by Diana Markosian, a talented artist who works at the intersection of photography and film. The series recreates the story of Markosian's family's journey from post-Soviet Russia to the U.S. in the 1990s. The project pulls together staged scenes, film stills, and family pictures in an innovative and compelling hybrid of personal and documentary storytelling. In it, the artist grapples with the reality that her mother, seeking a better life for herself and her two young children, escaped Russia and came to America. Markosian's family settled in Santa Barbara, a city made famous in Russia when the 1980s soap opera of that name became the first American television show broadcast there. Weaving together reenactments by actors, archival images, stills from the original Santa Barbara TV show, Markosian reconsiders her family's story from her mother's perspective, relating to her for the first time as a woman, and coming to terms with the profound sacrifices she made to become an American.
About the Program Format
This program will take place in the Library at the International Center of Photography, located at 79 Essex, New York, NY 10002. All program attendees must show proof of vaccination and wear a mask throughout their visit.
Speakers and program format are subject to change. In person programs may be moved to an online format at ICP's discretion. All ticket holders will receive an e-mail notifying of any changes to the program. Seating is on a first come, first serve basis.
Please note, a public program ticket does not include admission to the ICP galleries. Reserve your timed entry tickets online to view the exhibitions before or after the program.
We need your support. Admission to this online program is free with a suggested donation—help keep public programs accessible to all by donating today.
Speaker bios
Diana Markosian (b. 1989) takes an intimate approach to her photography and video storytelling, in work that is both conceptual and documentary. Her projects have taken her to some of the remotest corners of the world, and have been featured in National Geographic Magazine, The New Yorker, and The New York Times. She holds a M.S. degree from Columbia University in New York. Her work is represented by Galerie Les Filles du Calvaire in Paris, France, and Rose Gallery in Los Angeles, California.
Gene Jones is an actor based in New York City. His Broadway shows are Big River and Joe Turner's Come and Gone.Off-Broadway, he was seen in The Fantasticks, The Trip to Bountiful, and Moscow Moscow Moscow Moscow Moscow Moscow (at Manhattan Class Company), among others. His film work includes roles in No Country for Old Men, The Hateful Eight, The Old Man and the Gun, The Sacrament, and Dementia. He recently completed work on Martin Scorcese's Gray Horse. Television: Living with Yourself (with Paul Rudd), Boardwalk Empire, House of Cards, Louie, Chappelle's Show, and Inside Amy Schumer. He is pleased to be a part of the amazing Diana's amazing Santa Barbara.
Lynda Myles first career was acting in summer stock, on tour, regional, off-Broadway, Bdway, light comedy to Shakespeare to Greek tragedy. Then wrote a play, "Wives" which was selected for the Eugene O'Neill National Playwrights Conference and performed on Theater Row in NYC. Another play, "Thirteen," was staged by Theater Arts Co in NYC and by the ACT in Seattle. She wrote scripts for TV soaps, including "Santa Barbara." Her short stories have appeared in various obscure journals.
David Feeney-Mosier is a Cinematographer based in Los Angeles, CA. He began his career in New York as a camera assistant, working on a number of notable projects including Noah Baumbach's "Frances Ha," "Mistress America," and "While We're Young." In 2016 he served as 2nd unit Director of Photography for Greta Gerwig's film "Lady Bird," which was nominated for 5 Academy Awards, including best picture and best director. Most recently David just completed principal photography on a dramatic feature directed by Mayim Bialik, starring Dustin Hoffman and Candice Bergen.
Ana Imandze is a Georgian actress who has starred in both private and state theatre since 2009. Nominated for Best Actress in 2020 for her role in Clytemnestra, Imnadze's experience has led her to more than 20 lead roles in theatre and film. Her first international film, 5 Days of War, featured Rupert Friend and Emmanuelle Chriqui. She is a graduate of Shota Rustaveli State University of Theatre and Film of Georgia.