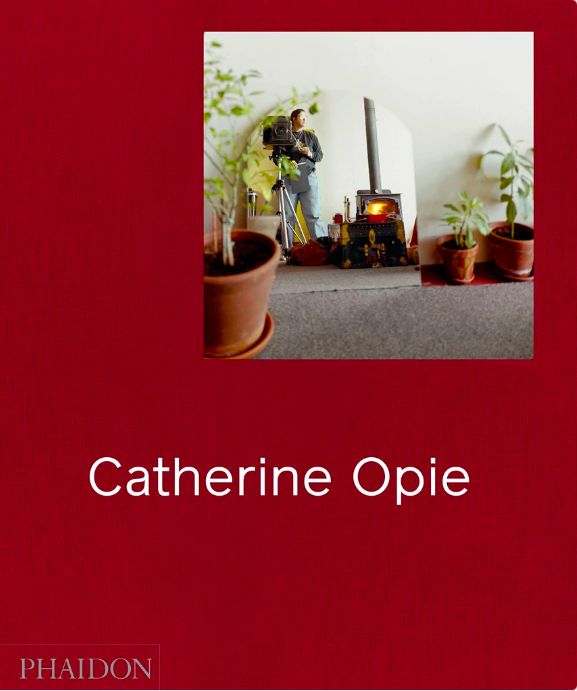 Meet Catherine Opie after ICP's annual Spotlights benefit honoring women in visual arts working in film and photography, for a special in person book signing of Catherine Opie, a comprehensive monograph published by Phaidon. The book presents a compelling visual narrative of Opie's work documenting the cultural and geographic identity of contemporary America, with over 300 images dating back to the early 1980s.
Catherine Opie will be signing books from 2-3 PM ET at ICP.
Reserve your signed copy of Catherine Opie ($150, Phaidon) at ICP's shop.
The 10th Anniversary Spotlights Benefit Honoring Catherine Opie
Tune in from wherever you are Thursday, November 4 at 12:30 PM ET for a livestream of ICP Spotlights Benefit 2021. This year, on its 10th Anniversary, Spotlights will honor prolific artist Catherine Opie and feature Catherine in conversation with writer and curator Helen Molesworth. The livestream is free and accessible to all on ICP's YouTube Channel. Limited tickets are still available to attend this event in-person at the International Center of Photography. The reception begins at 12 PM ET, followed by our program at 12:30 PM ET. Purchase tickets or email events@icp.org for more information.
About the Book: Catherine Opie
Long awaited, the first survey of the work of one of America's foremost contemporary fine art photographers. For almost 40 years, Catherine Opie has been documenting with psychological acuity the cultural and geographic identity of contemporary America. This unique artist monograph presents a compelling visual narrative of Opie's work since the early 1980s, pairing images across bodies of work to form a full picture of her artistic vision. With more than 300 beautiful illustrations and made in close collaboration with Opie, the book marks a turning point in the consideration of this artist's work to date.
About the Program Format
This program will take place at the International Center of Photography, located at 79 Essex, New York, NY 10002. All attendees must show proof of vaccination and wear a mask throughout their visit.
Photographer bio:
Catherine Opie (b. 1961, Sandusky, OH; lives and works in Los Angeles, CA) is an artist working with photography, film, collage, and ceramics. Her work has been exhibited extensively throughout the United States and abroad and is held in over 50 major collections throughout the world. Opie was the Robert Mapplethorpe Resident in Photography at the American Academy in Rome for 2021. Opie was also a recipient of The Guggenheim Fellowship in 2019, The Smithsonian's Archives of American Art Medal in 2016, The Julius Shulman Excellence in Photography Award in 2013 and a United States Artists Fellowship in 2006. In September of 2008, the Guggenheim Museum in New York opened a mid-career exhibition titled, Catherine Opie: American Photographer. She debuted her film, The Modernist, at Regen Projects, Los Angeles in 2018. Her first monograph, Catherine Opie, was recently published by Phaidon in June of 2021. Opie received a B.F.A. from the San Francisco Art Institute, and an M.F.A. from the California Institute of the Arts in 1988. She holds the Lynda and Stewart Resnick Endowed Chair in Art at UCLA where she is a professor of Photography and also Chair of the Department of Art.