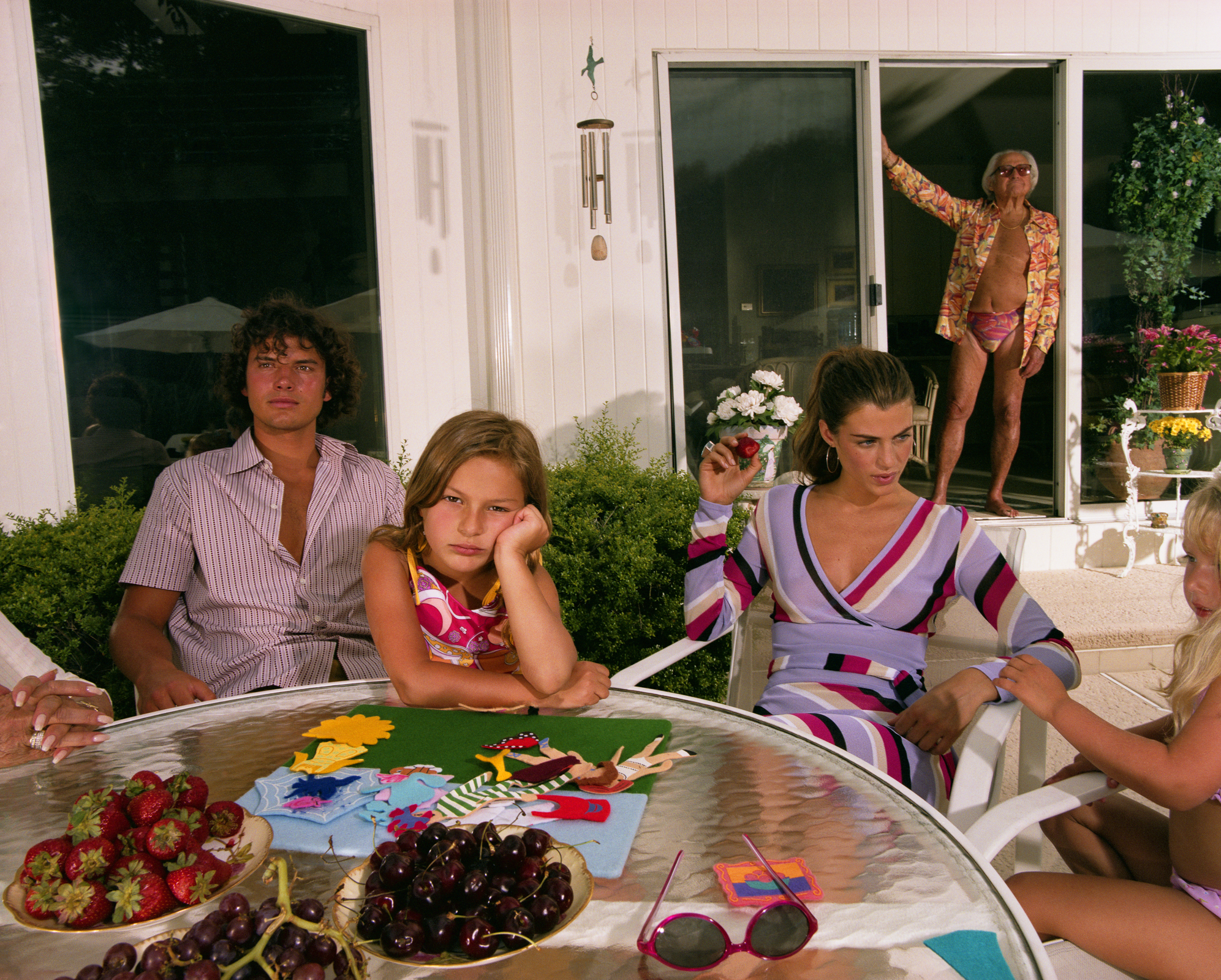 Image: Gillian Laub, Chappaqua backyard, 2000. © Gillian Laub
In-person seating
for this event is sold out. Reserve your ticket for
Live Online Viewing
(Free with suggested donation).
Due to unforeseen circumstances, Diana Markosian is no longer able to join the program. David Campany, ICP's managing director will join in conversation with Gillian Laub and Lesley Martin in her place. We apologize for any inconvenience.
Reserve the books Diana Markosian: Santa Barbara ($65.00) and Gillian Laub: Family Matters ($50), both published by Aperture through ICP's shop.
About the Books
Santa Barbara is the debut monograph by Diana Markosian, a talented artist who works at the intersection of photography and film. The series recreates the story of Markosian's family's journey from post-Soviet Russia to the U.S. in the 1990s. The project pulls together staged scenes, film stills, and family pictures in an innovative and compelling hybrid of personal and documentary storytelling. In it, the artist grapples with the reality that her mother, seeking a better life for herself and her two young children, escaped Russia and came to America. Markosian's family settled in Santa Barbara, a city made famous in Russia when the 1980s soap opera of that name became the first American television show broadcast there. Weaving together reenactments by actors, archival images, stills from the original Santa Barbara TV show, Markosian reconsiders her family's story from her mother's perspective, relating to her for the first time as a woman, and coming to terms with the profound sacrifices she made to become an American.
Family Matters zeroes in on the artist's family as an example of the way Donald Trump's knack for sowing discord and division has impacted communities, individuals, and households across the country. As Laub explains, "I began to unpack my relationship to my relatives—which turned out to be much more indicative of my relationship to the outside world than I had ever thought, and the key to exploring questions I had about the effects of wealth, vanity, childhood, aging, fragility, political conflict, religious traditions, and mortality." These issues became tangible in 2016, when Laub and her parents found themselves on opposing sides of the most divisive presidential election in recent US history; and further exacerbated in the lead-up to the 2020 election, in the wake of a global pandemic and protests in support of Black Lives Matter. Family Matters reveals Laub's willingness to confront ideas of privilege and unity, and to expose the fault lines and vulnerabilities of her relatives and herself. Ultimately, Family Matters celebrates the resiliency and power of family—including the family we choose—in the face of divisive rhetoric. In doing so, it holds up a highly personalized mirror to the social and political divides in the United States today.
About the Program Format
This program is being offered in person and online.
For in person ticket holders, the program will take place in the Library at the International Center of Photography, located at 79 Essex, New York, NY 10002. All program attendees must show proof of vaccination and wear a mask throughout their visit. Seating is on a first come, first serve basis.
For online ticket holders, those who register for online access will receive a confirmation email with a link located at the bottom of the email under 'Important Information' to join the program through a computer or mobile device.
We recommend participants download the Zoom app on their device prior to the program. Learn how to download the latest version of Zoom to your computer or mobile device.
If you do not receive the link by 11 AM on the day of the lecture or if you have questions about the virtual program, please contact: programs@icp.org.
Speakers and program format are subject to change. In person programs may be moved to an online format at ICP's discretion. All ticket holders will receive an e-mail notifying of any changes to the program.
Event Price
This program is free with a suggested donation of $5.
Please note, a public program ticket does not include admission to the ICP galleries. Reserve your timed entry tickets online to view the exhibitions before or after the program.
We need your support. Admission to this online program is free with a suggested donation—help keep public programs accessible to all by donating today.
Speaker Bio
Gillian Laub (born in Chappaqua, New York, 1975) is a photographer and filmmaker based in New York. She received a BA in comparative literature from the University of Wisconsin–Madison, before studying photography at the International Center of Photography, New York. Her works include the book Testimony (Aperture, 2007) and the book and HBO film Southern Rites (2015). Laub received a New York Foundation for the Arts fellowship in 2019.
Diana Markosian (b. 1989) takes an intimate approach to her photography and video storytelling, in work that is both conceptual and documentary. Her projects have taken her to some of the remotest corners of the world, and have been featured in National Geographic Magazine, The New Yorker, and The New York Times. She holds a M.S. degree from Columbia University in New York. Her work is represented by Galerie Les Filles du Calvaire in Paris, France, and Rose Gallery in Los Angeles, California.
Lesley A. Martin, who began her career at Aperture as a work scholar, is creative director, publisher of The PhotoBook Review, and editor of more than one hundred books, including On the Beach by Richard Misrach (2007); Illuminance by Rinko Kawauchi (2011, reissue 2021); LaToya Ruby Frazier: The Notion of Family (2014); Zanele Muholi: Somnyama Ngonyama, Hail the Dark Lioness (2017); The New Black Vanguard by Antwaun Sargent (2019); and Sara Cwynar: Glass Life (2021). She was commissioning editor of The Chinese Photobook (2015); a contributing editor to Japanese Photobooks of the 1960s and '70s (2009) and The Latin American Photobook (2011); and curator of The Ubiquitous Image (2008), The New York Times Magazine Photographs (with Kathy Ryan, 2011), and Mickalene Thomas: Muse (2016). Lesley's writing has been published in IMA magazine, FOAM, and Aperture. In 2012, she cofounded the Paris Photo–Aperture Foundation PhotoBook Awards and, in 2020, she received the Royal Photographic Society Award for outstanding achievement in photographic publishing. Lesley is currently a visiting critic at Yale School of Art, New Haven, Connecticut.