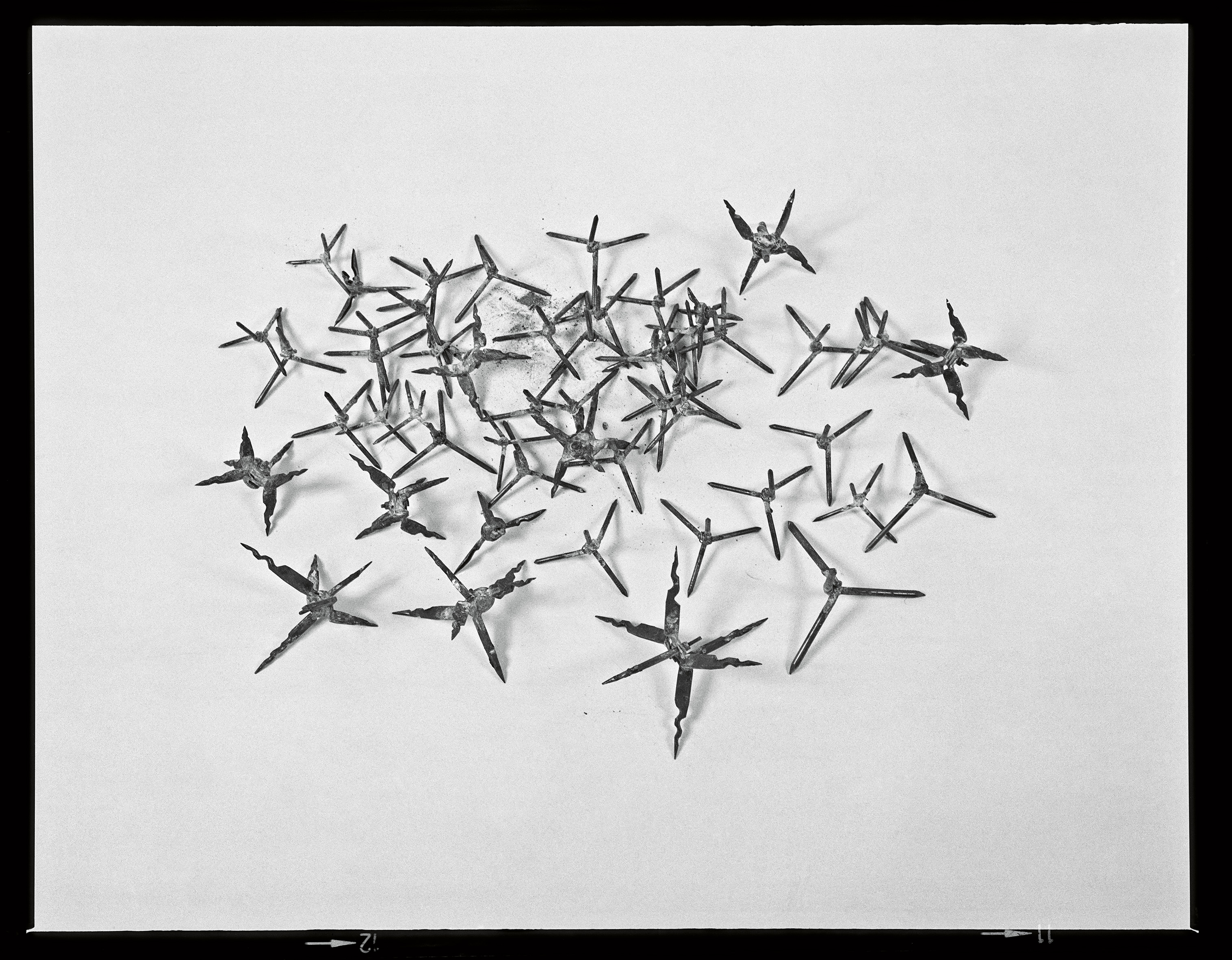 Image: Arwed Messmer,
AM_PHS_LOR_Tgb_1211_75_Neg_12
from
Zelle/Cell
(Hatje Cantz, 2017)
The Lives of Images Symposium Series
Coproduced by Aperture and the International Center of Photography
Join Aperture and the International Center of Photography for the second convening of The Lives of Images symposium series. Taking place November 30–December 2 after its first iteration in late August, the online event series addresses key issues in the second and third volumes of the series The Lives of Images: Analogy, Attunement, and Attention (Vol. 2, November 2021); and Archives, Histories, and Memory (Vol. 3, Spring 2022), edited by artist and critic Stanley Wolukau-Wanambwa.
Schedule for Vol. 2: Analogy, Attunement, and Attention:
Session 1: Tuesday, November 30, 2:30–4 PM ET
Sarah Jane Cervenak and Tom Holert on modes of attending to images of pain & racial violence
Session 2: Wednesday, December 1, 1–2:30 PM ET
Ariella Aïsha Azoulay and Saidiya Hartman on archives, and new histories of the present
Session 3: Thursday, December 2, 12–1:30 PM ET
Thomas Keenan on seeing, shame and state power
Please note that schedule and speakers are subject to change. Registration is for the three-day online event here.
Missed The Lives of Images Symposium Series: Vol. I? Watch the conversations online.
The Lives of Images explores the roles, histories, and contemporary uses of reproducible images in relation to specific grounding themes. To speak of the reproducible image in this moment is to address not only photographs, film, and videos, but screen prints and billboards; GIFs, memes, and emojis—a wide array of technically mediated scripto-visual forms that together constitute and remake both our visual landscape and image economies. The Lives of Images aims to gather together recent and contemporary scholarship that helps to animate and inform a rich dialogue on the role of the image in contemporary culture. Both the series and the symposium will engage theorists, scholars, and artists whose practices move fluidly between a focus on still and moving images. Symposium discussions will range across an array of uses of reproducible images that include, but regularly extend beyond, traditional fine art.
In each session, Wolukau-Wanambwa and David Campany, Managing Director of Programs at ICP, serve as interlocutors for invited guests whose work is either published or discussed in the series. The talks aim to delve in greater depth into these thinkers' and artists' contributions, and to provide a space for discussion as to their resonances in artistic practice and social life more broadly.
Purchase The Lives of Images: An Aperture Reader Series, Vol. 1: Repetition, Reproduction, and Circulation and pre-order The Lives of Images: An Aperture Reader Series, Vol. 2: Analogy, Attunement, and Attention (November 2021) through ICP's shop.
About The Lives of Images: An Aperture Reader Series
The Lives of Images, edited by Stanley Wolukau-Wanambwa, is a set of contemporary thematic readers designed for educators, students, practicing photographers, and others interested in the ways images function within a wider set of cultural practices. The series tracks the many movements and "lives" of images—their tendency to accumulate, circulate, and transform through different geographies, cultures, processes, institutions, states, uses, and times.
About the Program Format
This program will take place on Zoom. Those who register to attend will receive a confirmation email with a link located at the bottom of the email under 'Important Information' to join all three sessions through a computer or mobile device.
We recommend participants download the Zoom app on their device prior to the program. Learn how to download the latest version of Zoom to your computer or mobile device.
If you do not receive the link by 11 AM on the day of the lecture or if you have questions about the virtual program, please contact: [email protected].
The Lives of Images symposium series has been made possible through the generous support of Marina and Andrew Lewin.
About Aperture
Aperture, a not-for-profit foundation, connects the photo community and its audiences with the most inspiring work, the sharpest ideas, and with each other–in print, in person, and online. Created in 1952 by photographers and writers as "common ground for the advancement of photography," Aperture today is a multi-platform publisher and center for dialogue within the photo community.
Speaker Bios:
​Stanley Wolukau-Wanambwa is a photographer, writer, and graduate director of the photography MFA at the Rhode Island School of Design. His book of selected essays, Dark Mirrors, will be published by MACK Books in 2021 and his most recent monograph, Hiding in Plain Sight, coauthored with fellow artist Ben Alper, was published by the Harun Farocki Institute in 2020. He is editing the inaugural Aperture Reader Series, titled The Lives of Images, which will launch in summer 2021.
David Campany is a curator, writer, and managing director of programs at the International Center of Photography, New York. His books include On Photographs (2020), A Handful of Dust (2015), Art and Photography (2003), Jeff Wall: Picture for Women (2011), Walker Evans: the Magazine Work (2014), and The Open Road: Photography and the American Road Trip (2014).
Sarah Jane Cervenak is director of undergraduate studies and associate professor of women's and gender studies and African American studies at the University of North Carolina at Greensboro. She is the author of Wandering: Philosophical Performances of Racial and Sexual Freedom (2014) and Black Gathering: Art, Ecology, Ungiving Life (2021). She coedits the book series Black Outdoors: Innovations in the Poetics of Study.
Tom Holert is an art historian, writer, curator, and artist. In 2015, he cofounded the Harun Farocki Institut in Berlin. He is an honorary professor of art theory and cultural studies at the Academy of Fine Arts Vienna. Holert is the author of Knowledge Beside Itself: Contemporary Art's Epistemic Politics (2020).
Thomas Keenan is a professor of comparative literature and director of the Humans Rights Program at Bard College, Annandale-on-Hudson, New York, where he helped create the first undergraduate degree program in human rights in the United States. He is the author of Fables of Responsibility: Aberrations and Predicaments in Ethics and Politics (1997), coauthor of Mengele's Skull: The Advent of a Forensic Aesthetics (2012), and coeditor of New Media, Old Media: A History and Theory Reader (2005/2015). Keenan is an editorial and advisory board member of Grey Room, Humanity, Journal of Human Rights, and the Scholars at Risk network.
Ariella Aïsha Azoulay is a professor of comparative literature and modern culture and media at Brown University, as well as a curator and documentary filmmaker. Her many books include The Civil Contract of Photography and Civil Imagination: A Political Ontology of Photography. She has curated exhibits for galleries and museums worldwide.
Saidiya Hartman is the author of Wayward Lives, Beautiful Experiments, Lose Your Mother: A Journey Along the Atlantic Slave Route, and Scenes of Subjection. A MacArthur "Genius" Fellow, she has been a Guggenheim Fellow, Cullman Fellow, and Fulbright Scholar. She has published articles in journals such as South Atlantic Quarterly, Brick, Small Axe, Callaloo, The New Yorker and The Paris Review. She is a professor at Columbia University and lives in New York.